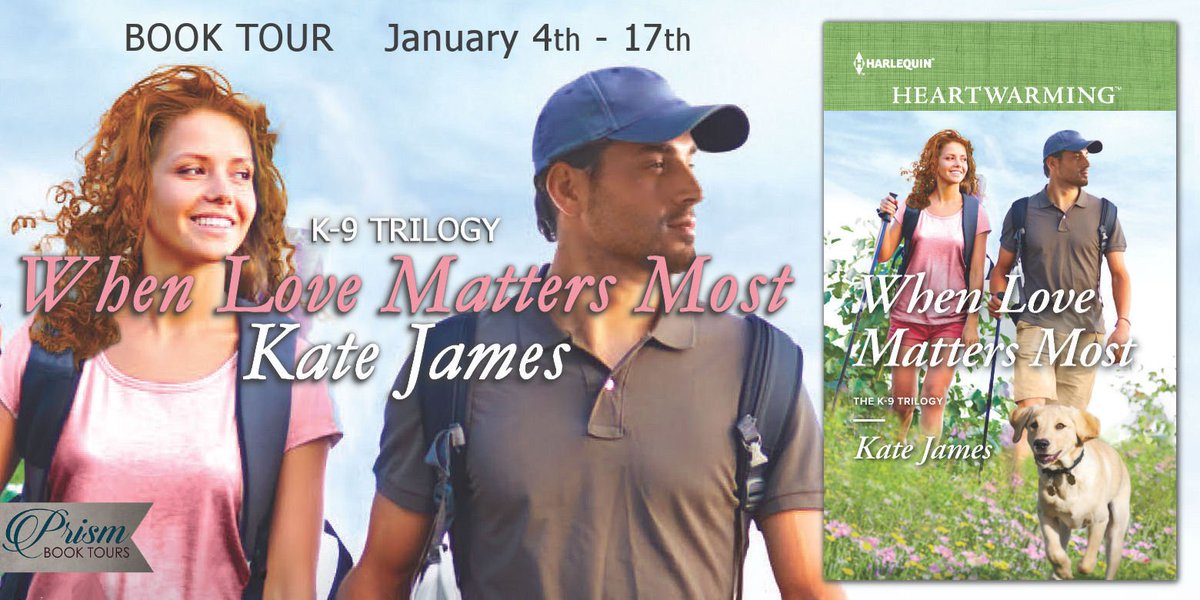 Now More Readily Available in Print
This is an exciting time for Harlequin Heartwarming. Thanks to the loyalty of our   readers, for the first time, our January releases, including When Love Matters Most, are available as mass-market paperbacks through Amazon, Barnes and Noble, and Harlequin.com. Also, When Love Matters Most will be available in select Walmart stores in the United States in February! Please check the Harlequin website for the location nearest you. Thank you to all our readers who made these advancements possible for us!
— Kate
When Love Matters Most
(K-9 Trilogy #2)
by Kate James
Adult Contemporary Romance
Paperback & ebook, 368 pages
January 1st 2016 by Harlequin Heartwarming

Keeping her safe at all costs
Could their backgrounds be any more different? Rick Vasquez, a K-9 unit sergeant with the San Diego Police Department, fled drug-related violence in Mexico as a boy. Madison Long, who recently became primary veterinarian to the SDPD's canines, is the privileged daughter of a judge. Rick has dedicated his life to curtailing cross-border drug trafficking and preventing other young boys from being drawn into the dark world of the cartels.
But everything Rick and Madison value, and the growing love between them, is threatened by the dangers of Rick's job, and the risks he's determined to take…

My Review
I was immediately drawn into Kate James' novel, When Love Matters Most, and my enthusiasm lasted all the way through the last page. The author's excellent writing style conveys to us an intriguing story concerning the plight of a narcotics officer working with a K-9 dog named Sniff. Haunted by a childhood trauma, Rick Vasquez has a heart for kids who are forced to deal drugs, and he also visits schools  in an effort to warn youth about the dangers of these substances.
A drug bust gone bad is the beginning of a virtual war between the police and the cartels, and Rick rescues an injured officer's dog in the aftermath of a trap. Taking Zeke to Mission Bay Veterinary Clinic, Rick meets Madison Long, but he fails to make a good impression. Fortunately for him, because of the nature of his work and hers, he gets another chance.
Madison has a dog of her own, and she has dedicated her life to caring for and rehabi-       litating animals. The daughter of a Supreme Court judge, she has distinct values and   strong work ethics, as well as a great respect for policemen and their dogs, which makes   a relationship with Rick a natural fit. But will her strict adherence to the law and the sensitive nature of Rick's work come between them? They have some issues they need       to work out, and the extreme circumstances of the battle with the cartels makes this even more difficult.
The author shows knowledge concerning K-9 Units, and she has artfully woven police business together with a romantic story. When Love Matters Most is a book that's difficult to put down, and I can honestly say this is my favorite of the Kate James novels I've read so far.
Kate James spent much of her childhood abroad before attending university in Canada. She built   a successful business career, but her passion has always been literature. As a result, Kate turned her energy to her love of the written word. Her writing has been recognized with a number of awards, including first place honors for Silver Linings in both the First Coast Romance Writers' Published Beacon Contest and Ancient City Romance Authors' Heart of Excellence Readers' Choice Award. Her November 2014 Harlequin Heartwarming release, A Child's Christmas, received first-place honors from Southern Magic, the Birmingham Chapter of the Romance Writers of America, for the 2015 Gayle Wilson Award of Excellence, placed second in the Ancient City Romance Authors' Heart of Excellence Readers' Choice Award, and was a finalist in RWA's Desert Rose Chapter's Golden Quill Award and the Colorado Romance Writers' Award of Excellence. Finally, her October 2015 release, When the Right One Comes Along, the first book in her K-9 trilogy, has received a Best Book of 2015 award in the contemporary category.