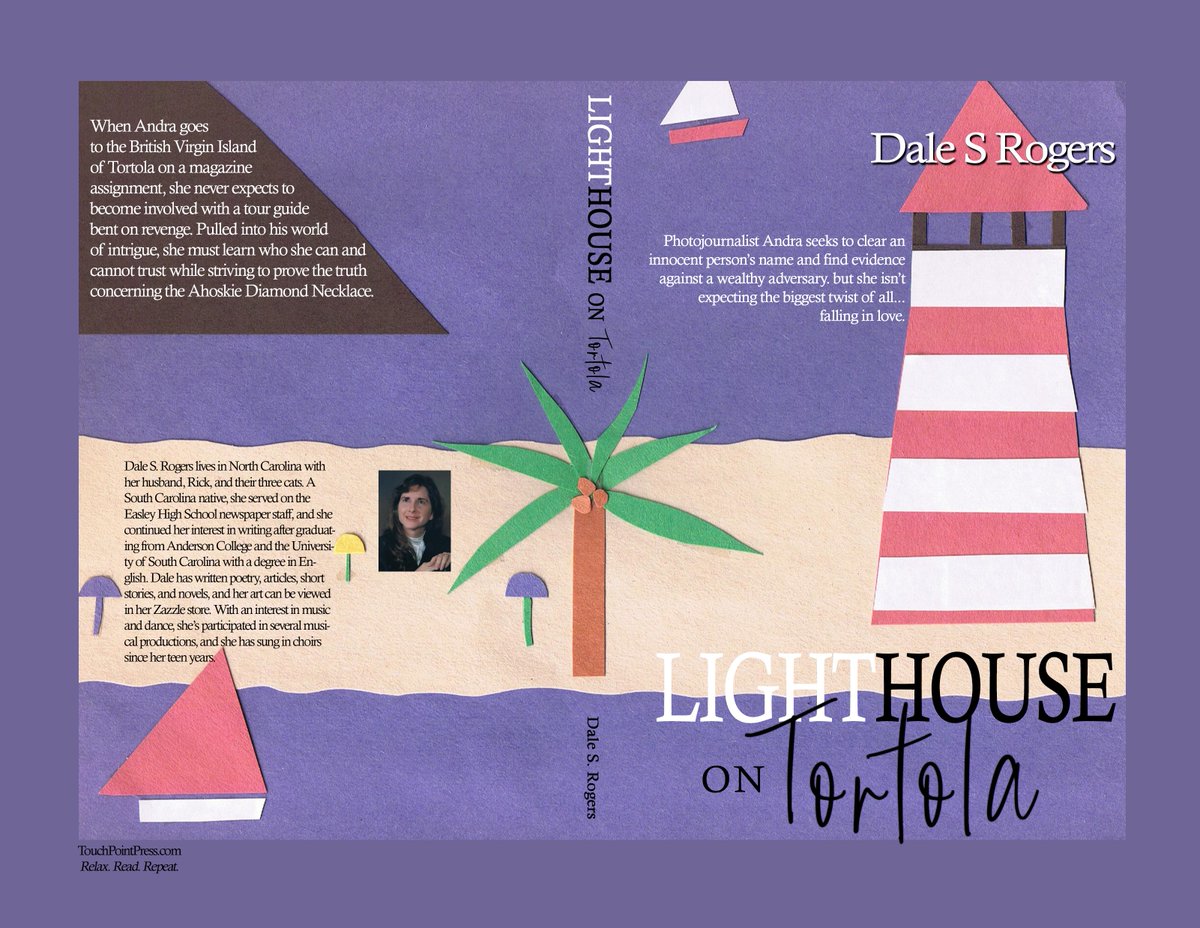 A debut novel filled with suspense as Photojournalist Andra seeks to clear an innocent person's name and find evidence against a wealthy adversary. But she isn't isn't expecting the biggest twist of all… falling in love.
When Andra goes to the British Virgin Island of Tortola on a magazine assignment, she never expects to become involved with a tour guide bent on revenge. Pulled into his world of intrigue, she must learn who she can and cannot trust while striving to prove the truth concerning the Ahoskie Diamond Necklace.
Review
With her first novel, Lighthouse on Tortola, Dale S. Rogers has created a piece of work that succeeds in mingling delightful descriptions of nature and food with a riveting life-or-death subplot. Set on lush Tortola, one of the British-owned Virgin Islands in the Caribbean, the novel proves to be informative and entertaining, in addition to holding an appeal for both adults and teenagers, somewhat of a rarity these days.
We first meet Andra Phillips, a young photojournalist from Virginia on as-signment from a travel magazine, as she arrives by plane on St. Thomas in a pelting rain. As she is taken by boat over to Tortola, where a taxi takes her to a small inn, she is overwhelmed by the beauty she encounters, even in the rain. However, she also begins to detect an undercurrent of  desperation amid the lush yellow hibiscus  blossoms and pink bourgainvillea as she passes by workers on a ship "glancing over their shoulders from time to time."
In this way, the blend of breathtaking natural surroundings with possible criminal activity makes the story even more intriguing. At her hotel pool a little later, Andra meets Michael Lambert, who has been visiting Tortola for years with his parents. A young man from Maryland, he has bought a boat, hoping to start a touring business. However, is this the real reason he has come to the island?
Amid the evolving mystery, the book's breathtaking descriptions of the island such as: a flock of seagulls "floating in a blanket of white," and an angelfish with "a yellow tail, blue mouth and muted orange shading," make you want to rush out and buy a ticket to Tortola. But, believe me, this book is the next best thing. -Dottie Ashley, freelance writer and former performing arts writer for South Carolina's two leading newspapers, the STATE in Columbia, S.C. and The Post & Courier in Charleston, S.C.
    From the author, Dale Rogers
Lighthouse on Tortola is the second book I've written about the Caribbean. I've been there twice with my husband and absolutely loved it. I knew I had to use it as the setting for my lighthouse drama. The small amount of research I did to add little tidbits of knowledge was a pleasure, and I hope it helped to make it an enjoyable read. Thanks so much for your interest in my book!
Available at https://www.amazon.com/Lighthouse-Tortola-Dale-S-Rogers-ebook/dp/B085DPW8BH/ref=sr_1_1?dchild=1&keywords=Dale+S.+Rogers%2C+Lighthouse+on+Tortola&qid=1584490485&sr=8-1
Soon available on Barnes&Noble and itunes